When I heard about the Gap lucky45 deal (today only) - 45% off all regular priced items in store only with GAP card, I commented on their facebook page that I really didn't plan on going because they don't carry any petite sizes in store. I requested that they extend this offer to online as well, let's see how much they listen to their customers. Then I decided to go in anyways because I have two kids to shop for. I ended up coming out with 3 bags of clothes, granted the bags were small, but the purchase were very satisfactory overall.
First, this
Wool boucle trench coat
for my 10 year old daughter. The coat is adorable in person and true to size. I got her a size 10 and it looks amazing on her. I'd say the size 12 or 14 would fit most of the petites. The online sizing is different from the store sizing and the price is a little higher. The store price is $68. So I paid $37.4 for this amazing coat.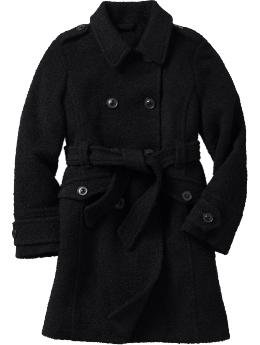 Next are these
tall leather boots
. It's made of 100% leather, and it's super soft. I really like the casual look of it. And the store price is $49.50 (again cheaper than online price of $54.5, interesting, never realized that before). So with 45% off I paid $27.22. The boots are bigger than its size. My daughter usually wears size 3 shoes, but she had to go down 2 sizes to fit, I got her a size 1. Some of you small feet ladies might be able to fit in a size 3. :) These boots are very casual, so I'm expecting her to wear them everyday to school with her leggings or skinny jeans.
Can't leave the store without getting my son something otherwise he'd complain. "How come Jasmine get so many things, and I have none?!" So I was really happy to find this
Sherpa four-pocket jacket
. I love the utility jacket look, and the faux sherpa collar. It runs a bit big, but my boy is bigger than average, so it fits him very well. He's 8 and I bought a size 8. Again the store price ($54.5) is 2 dollars cheaper than online, what's up with that? So with the discount I paid $29.97.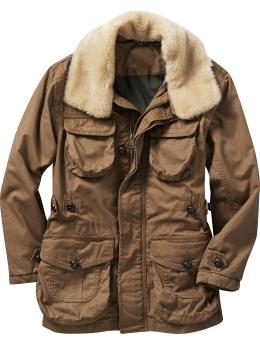 Now it's my turn. I can't believe this
plaid ruffle shirt
fit me until I tried it on. I think it's super cute in person and I got a size xs, which is usually HUGE on me. But this shirt isn't that bad, and I was looking for a relaxed casual fit. You can't quite tell from the picture, but the front is a single sided ruffle, and a cute necktie. Works very well on its own, or layered under a cardigan.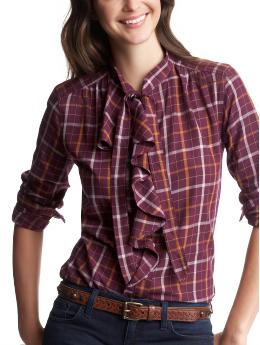 I tried it on right after I got home for some quick pictures.
Wow, just can't believe how red our "burning bushes" are already! I love fall.
For those of you who read
extrapetite's post
on the
Loft Sculpted Sheath Dress
and wonder how it fits on petites, this is a dressing room picture taken by my lovely daughter with me in size 00P. I think it fits too well to leave me any room for feasting, but the next size up 0P is too big all around. So I decided on the no feasting option. The material is the Scuba material I really like, and I got the color black. The grey color doesn't come in petite sizes.
Oh see the velvety green jacket hanging on the door? My daughter really liked it on me, so I bought it as well.
It looks better in person than in the picture. I like the velvety look. I got an xxsp. The original price was $98, it was on sale for $79.99. With 50% all sales items, the jacket came down to $39.99. With my Loftcare card, I was able to knock another 25% off, so the jacket was mine for
$30
. Same deal applies to the sheath dress which was $89 originally, on sale for $74.99, 50% off makes it $37.49. With Loftcare card, the total comes down to
$28.12
.
On the regular priced items, I couldn't resist getting this wrap skirt. With 30% off deal this weekend and the extra 25% off this cute skirt was only $31.
Hope everyone is having a great weekend so far and enjoy the beautiful Sunday!